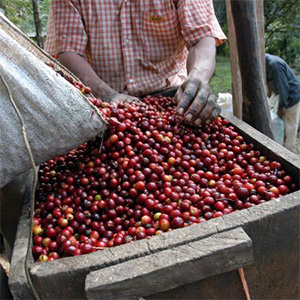 From the selection of coffees to packaging and roasting, we aim for excellence. Thanks to this passion, we offer each month exceptional fair trade coffee for your business.
Kenya, Ethiopia, Colombia, Brazil...
We select the best fair-trade coffee of the world for your company.
The taste
Probably the most important factor for your team! Each coffee must be a good coffee. This may seem obvious, but we would like to recall this important point.
The variety
Robusta and Arabica are two famous varieties of coffee: robusta is not a quality coffee, so we have chosen to offer only 100% arabica coffees.
An ethical production
Our coffees come from small farmers and cooperatives that respect the men and the land they are working on. In addition to visiting them once a year, we've set a decent minimum purchase price.
Cherry on the cake, more than half of our coffees are from organic farming and certified by Certysis.
A few coffees
Next roasting: on September 26, 2020
Roasting involves heating and "baking" the green coffee beans to release all their flavors.
Total mastery of this technique is paramount to get the best out of each coffee.
Different roasting levels exist:
For each coffee, the roaster chooses the best roasting level.
An artisanal roasting process

We work with a roaster located in Bièvre, Belgium. He practices roasting at moderate temperatures. This technique allows the beans to take a harmonious hue without losing their precious aromas.
The grains are gradually brought to a temperature of 180°C to 220°C for 20 to 25 minutes.
Unlike some industrial techniques of roasting (known as flash roasting), this artisanal technique makes it possible to make the best of each coffee bean.
Grinding is the way coffee beans are treated after they are roasted.
Javry provides 3 different grindings to suit the machines your company already has. If you do not have a machine in the office or want to replace it, Javry can provide you with the right equipment for your needs. The grinding will then depend on the choice of the machine.
Javry proposes 3 grindings

Coffee Beans
Ideal if you have an automatic coffee machine (with grinder)
Ground Coffee
Ideal for percolators, both professional and private
Biodegradable Caps
Finally an eco-friendly & fairtrade option for your Nespresso coffee machine!